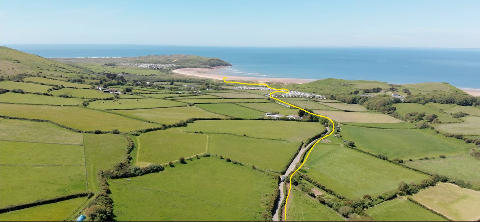 See Above. This is our favorite walk to the beach with our own dogs. Through Whiteford Caravan Site to Broughton Beach. Takes about 20 minutes.

Wagtails Seaside Apartment
Guest Comments
| | | | |
| --- | --- | --- | --- |
| Date of arrival | Name | From | Guest Comments left in our guest book at Middle Cottage |
| 2nd Dec 2021 | Kat & Ewen | Motorhomers | Playing on the beaches with our little dog nipper. The Salt Marsh Lamb is a must if you're a meat eater. We bought a ½ leg from the shop @ Weobley Castle Farm. Thank you for our late booking and for being so accommodating kind and understanding. Wagtails is cosy and a perfect retreat. A mansion compared to our tiny home on wheels! Plus a bath and SKY Movies a treat. It was just what we needed while our home was in for repair. Frank & Betty are adorable and hope they bring you as much happiness as our dogs have (two hearts) "The Travelling Pilchards" |
| Oct/Nov 2021 | Rob and Yvonne Sayer | Llanmorlais Gower | As always a beautiful area we lovfe the National Trust Walk down the peninsular ideal location for all of Gower. Thank you once again Dai and Heather for a very lovely very comfortable stay. We will recommend Wagtails to any visitors couples coming to South Wales. Thank you for your kind help and consideration. Anyone with a walking difficulty like myself would find Wagtails ideal inside. The dogs loved their stay as always. Our regard and best wishes Yvonne and Rob, Megan and Bryn (dogs) |
| 16 Oct 21 | Paul and Lyn Stapleford and Ruby and Chase the dogs | Melksham Wilts | Taking the dogs to Oxwich Bay where we could park on the beach also loved Port Eynon and Llangennith. Wagtails is perfect for two people and two dogs. Managed to everything we needed to do. Hope the new puppies behave themselves for you. |
| 12 Oct 2021 | Chris and Anne Chard | Chippenham | The walk out to the cast iron lighthouse at Whitstone Sands (Whiteford) is always special. Out through the nature walk and back along the beach. A long way but worth it. We hope they will repair the sea wall one day. As that is an even better route. Our 3rd time in Wagtails and always perfect. Had a lovely meal in the pub popped in the shop for pies. For our walks. Explored Three Cliffs Bay Spectacular Just what just what we needed Peace and Quiet. Thank you Dai & Heather for squeezing us in |
| 9 Oct 2021 | Margaret and Mark Thompson | Oxford | We've taken the lower hill path through Llangennith and caravans to Rhossili Beach before but this time returned along the coastal path north, through dunes. As we're pushing 80 so it was about 12 miles we were happy to have made it ! A first visit to Cefn Bryn, the backbone from Penmain was good. This is our third visit and we love it every time and findf new and familiar things to do. Thank you Heather for coping with all the cancellations last year over you know what and for finding us a slot. |
02/10/21

Andy & Carole

Solihull, W Mids

Worms Head and Rhoissili remains of the sunflower fields. Alked Cwm Ivy then through the forest to the beach. Shorter walk through Cwm Ivy Betty Church Reserve then via the Salt Marsh and back to the Britannia In for Lunch. Fantastic walk up Llanmadoc Hill to the Bulwark and Cairns for amazing views. Thank you Heather and Dai for another brilliant week here in Llanmadoc. Our first stay in Wagtails we always had Heather Cottage before. But we loved it just about everything you can need. Compact but very comfortable would return without hesitation. Enjoyed much good food and Gower Gold (Ale) at the Brit and Cwm Ivy Café gets better each visit. Thanks again hope to be back soon.

26/09/21

Frances and Jon Flint

Sidmouth, S Devon

Woodland Walk at Oxwich Point. Cycle Marsh Road Crofty to Llanrhidian. Scrambling out to the work as the tide ebbed. And spectacular views and walk on Rhossili Downs. Walk from Port Eynon to Rhossili (quite a long walk) look out for birds on the cat table. Really enjoyed Cwm Ivy for Coffee and nice and arts & crafts too. Evening meals preferred venue was King Arthur Hotel at Reynoldston. Lots of choice and variety of food and different specials.

18/09/21

Sue & Keith

Suffolk

Worms Head walking and scrambling right out to the end a challenge.




Going back the next evening to see the sunset.




AN ideal base to visit the Gower and a queter area.




We spent the whole week walking in great weather and with lovely views.




The local beaches are wonderful, we walked out to the li9ghthouse had some lovely meals down at the Britannia down the road and the Kings Head Llangennith and the Welcome to Town Pub in Llanrhidian. Also coffee at Cwm Ivy and picked up supplies at the village shop.

12/09/21

Sue & Terry

Shaftesbury, Dorset

Long Walk stopping for a reviving coffee at Cwm Ivy Café. Lovely circular walk and beach almost deserted. Also enjoyed Rhossili and Oxwich and managed a swim in the sea at Port Eynon. Thank you Heather and Dai for being so welcoming and letting us stay in such a lovely cost property and thanks to lovely Frank (Corgi puppy) FOR LOVELY cuddles. Layla is absolutely exhausted and is going to miss her runs down the beach. We have all enjoyed the slower pace of life you live in a wonderful place we hope to come back.

02/09/21

Karen & Lynda

Narborough, LEICS

Visiting the many beaches and moorlands the Gower has. Enjoying a quieter and slower pace of life that being in the village has offered. Accommodation lovely and comfortable no complaints whatsoever thank you so much Heather and Dai for a friendly welcome. The dogs haver enjoyed their stay as well good luck with your new puppy we hope to come back again soon.

30/08/21

Steve Eades

Cardiff

Walk through Cwm Ivy forest to the beach. Lovely accommodation and friendly hosts. Dai always makes sure we are ok and settled. We have been here several times and enjoy Wagtails set up and this time the fabulous refurbishment. We look forward to out next visit.

23/08/21

Sabine & Phil Ramsden

York

Cwm Ivy Café great food and brilliant views. Broughton Beach and Whitford sands strolling and taking in the atmosphere the walk up Llanmadoc Hill to Llangennith for lunch at the Kings Head. Thank you Heather and Dai for making available the cosy accommodation that is Wagtails Apartment. It is well located for the nearby beaches and other essential amenities and makes a great base for couples to enjoy Gower.

20/08/21

Cath Tossell

Port Talbot

Fantastic beaches and coastal walks than you Dai and Heather for making us feel so welcome Wagtails is the perfect apartment for couples clean cosy and in the perfect spot.



Carol Marlow
4 reviews
2 weeks ago
Such a fab place. Clean tidy. And comfy. Lovely people who own it. Hope to go back again. Village is great .

Michelle Hart
Local Guide ・54 reviews

7 months ago
Lovely cottage. Has every thing you need. Dishwasher WiFi, Sky TV. Lovely garden. Close to pub, shop, beach. Good base for exploring the Gower. Dogs welcome. Would recomend highly.

Jan Valente
1 review

5 months ago
Just returned from our visit to Wagtails Cottage. The cottage was perfect for the two of us and our border terrier. I loved seeing the sheep go past the window. We visited Rhosili bay and Oxwich bay beaches both were lovely. Yesterday was a bit of a rainy day but we had a lovely time at Clyne Gardens which were stunning. We walked down to Britannia Inn on two nights and enjoyed different choices from their menu. The Cottage itself provided everything we needed. Comfy bed, hot shower, fridge, cooker. Sky tv so my partner could watch the golf and WiFi. Also a nice bottle of red wine and some milk left as a welcome up on our arrival. The surrounding area was peaceful and pretty and everyone we met very friendly.

stephanie farley
2 reviews

9 months ago
Compact cottage very well equipped & cosy . Comfortable bed. Thoughtfully designed small space with everything to hand. Situated in the heart of the village handy for Post Office (lovely cakes & coffee) and short walk to Brittania Pub - very handy for good pub meals. With very good access to good walking. Enjoy sunsets on the beach.
Trip type Couples · Vacation
Rooms 4.0 Service 5.0 Location 5.0

Virginia Fielden
1 review

a year ago
Lovely, cosy and comfortable cottage. Extremely well equipped, everything we needed, bottle of wine and milk left for us very much appreciated. Everywhere was very clean and the bed was so comfy. Heather and Dai on hand to help if needed, made to feel very welcome. Fantastic beaches which our dog loved. Enjoyed watching the sheep wander round the village, they even popped into the garden next door one morning to give the lawn a trim! Very comical Would definitely recommend

Cherie Savage
3 reviews

a year ago
We stayed here October last year and the area is amazing. Loads of dog friendly beaches close by. Lovely pubs and walks. The cottage was small and compact but in a very cozy layout which made it actually feel very spacious. There was certainly plenty room for both of us, our greyhound and 4 Whippets. I personally liked the garden which had a lovely wild look with mature shrubs which attracted lots of birds the dogs certainly enjoyed it. The one thing that would have perfected the cottage would have been direct access to the rear garden or gates to the front, which on chatting to the lovely owners they are planning to do something to remedy this in the future. They do have 2 more equally attractive cottages though so if it's something that bothers you then you can book into one if those. Highly recommended and we hope to be going back again this year

Andrew Squire
6 reviews

a year ago
This is the second time at wagtails this year. Only 4 days this time. But enjoyed it very cosy. And well equipped with stuff. Even hurricane callum didn't put us off. Cottage dog friendly as well.

Andrew Haines
1 review

a year ago
For me one of those rarest of places, and rarest of spaces; one that I will look forward to returning to during the rest of the year; and one that inhabits my imagination when I am not there. Simply Magical. The village harks back to the 1950's in its atmosphere, peace, and dark nights (no security lights!); and yet has that community warmth, and friendliness, that you would only expect in a heart warming movie. With countryside, sea, and walks, which remind me of Long Island (New York). It is the cottage apartment itself which I will miss the most. I had hoped to find a small getaway "for one" (such a rare thing) but never expected to find a space with such hygge, to use the Scandinavian term. The four rooms curl around each other in such an unusual way, but it creates a surprising sense of space, and yet cosiness! I will miss the early grey light coming through the kitchen door in the morning, the pine table at breakfast, and again the open door to the kitchen (and candles around) in the dark evenings -- and I will miss the breeze (and country sounds) coming in over the bed at night. Dai, Heather, you were the very most wonderful of hosts, Thank You so much! Hoping to return for many years to come!
Who
From
Comments left in book were (typed out verbatim)
2016

Mark & Sarah
Caerphilly
Good base for Fab week in our beloved Gower (Sky & WIFI great!) Weather perfect, just one day rain Village shop always great for essentials e.g. Gower Cider & Ale !! Gorgeous cream tea and Stunning scenery at Cwm Ivy Tea Room, down hill toward Whitford Burrows. Ask there for directions to Landimore fantastic walk. Thanks Dai & Heather for giving us our space, but always available if needed. Next Couple – enjoy. !!
Jed & Teresa Stevin
High Wycombe
Great few days in a comfortable cottage. Weather quite good only a few spits but very overcast. Hupo has enjoyed his walks and swims. Many thanks for the extras Wine went down very well !!
Keith and Lorraine + Sol
Teddington, MIddx
We experienced all weathers but didn't deter our stay. It was great! Beautiful location, comfy cottage with everything you need, Village especially the shop + The Brit – was delightful with all local/rural? Life to add to the enjoyment Many thanks for milk and wine J !!
Dave, Deb, and Megg the Flat Coated Retriever
W. Midlands
Lovely peaceful relaxing week lots of walks for Megg. Very relaxing place particularly enjoyed the location the Gower Gold and the free range sheep v. comical. Were always known what time its been this week never quite sure what day thought! Thanks. Xx
Tom and Mims
Weston Super Mare
We came in need to be still and rest and what a peaceful place it is! We enjoyed a meal at the Britannia (V friendly and good food/service). We treated the local chapel as our own - a fab place to be quiet and pray. Enjoyed a day at Port Eynon & Rhossili too – great weather and views we sat and read. We'd recommend a nice cool cider sitting outside the Worm's Head Hotel at Rhossili: stunning scenery, we'll return feeling refreshed Thank you p.s. thanks for the map and rucksack.
Vanessa and Neil
We had a lovely time here! Great location to go surfing or explore the area on foot! Really liked the food at the Britannia Inn! Love Vanessa & Neil xxx
Peter & Audrey
Yateley, Hants
Thanks for Accommodating our wishes and your hospitality! Enjoyed our stay very much, very relaxed. Weather good. Love Gower. Great to be so close to Whitford Sands. Did the circular walk to lighthouse and back, long for us, so peaceful. Walked up Llanmadoc Hill. Views fantastic, well worth the climb. Saw Choughs on cliffs near Mewslade Bay & Seals at Worms Head. Cottage well equipped.
Helen & Dylan n Joey (Dogs) second visit.
Whiteford (Llanmadoc) caravan site
Thanks for the use of your lovely cottage – home form home ! Nice and warm and comfy. The only thing I would add (if it were mine) would be an open top stable door to let cooking smells and smoke out - yet keep dogs in ! (Maybe a baby gate would do?) xxx
(Owner comment - There is an extractor hood and fan above hob but you need to pull the hood out for it to come on - it is externally vented – perhaps guest didn't realise how to operate – but we may fit a new door and when we do perhaps this idea of a stable door is worth considering anyway!)
Lin & Jan
Royal Wootton Bassett, Wilts
Had lovely time shame about the weather. Happy New Year everybody.

2015

Alun & Marilyn
Thank you so much for letting us stay (sorry about the mix up) you have a lovely property really enjoyed,.
Debbie & Sarah
Malmesbury, Wilts
We had a lovely week at "Wagtails". The cottage is small but cosy. We walked miles while here. There are so many footpaths to explore!! The dogs were exhausted when we left ! We were very lucky with the weather as well. Sorry to have missed Dai & Hev Debbie and Sarah p.s. Thanks for the wine and milk on arrival! (Owner comment – it was Dais birthday so we were away on holiday J)
Barbara & Derek + Bella, Murphy & Archie
Honiton, Devon
This is our first visit to the Gower so we have only just "discovered" this beautiful area! Wagtails is a perfect size for the two of us plus 3 dogs and is a great place from which to start the many fantastic walks which we are on the doorstop. Many thanks for the wine (yum) and milk, Dai and Heather and for ensuring everything was here for our lovely stay. We hope to be back !!
Yvonne and Clare and Moss the dog
Sevenoaks, Kent

The weather was fantastic all week so we were able to do a lot of walking and visited most of the beaches. The cottage was very well equipped but smaller than we had expected. We also wished there was direct access to the garden to make it easier to eat outside. If we had bad weather I think it may have been difficult with muddy boots, wet weather coats to dry. And wet dog towels. We were amazed that people with 2 children and dogs return time and again to such a small cottage!
Wished we had equipped ourselves with a map, tide table and bus timetable on day 1.
Some of the coastal path is poorly sign-posted and the route isn't always clear.
Broughton beach car park was closed.
Some footpaths had diversions which were not mentioned at the start of the week.
Times mentioned by others in this book were totally different to the times which we walked them in so be careful if heading to catch a bus you could have a long wait.
The local shop is great but doesn't open until 10am
I know these things aren't in Heather & Dais control but felt it would help others to know (Yvonne Veal).


Owner comments/feedback: - We take all guests comments in good faith and there's some useful points for other guests here.


The village shop opens Mon-Fri 10-4 & Sat 10-1pm. (Post office counter opens Mon-Fri 10-12 closed on Sat). Shop closed on Sundays. In Summer it may stay open until 4pm on Saturdays – but being a fairly new co-operative shop the exact opening times are still being reviewed so check on arrival.
Broughton Beach Car park is in fact Lagadranta Farm car park – it is privately owned. The owner Alec Price and his wife did keep opening times that were difficult to predict. Sadly Mr Price died in 2016 and the new family management that have taken over seem to open far more liberally in both summer and winter with longer opening times both daily and seasonally. There's a small fee to pay to park there. It takes you 10-12 mins closer to the Broughton Beach (which is then only 7-8 mins walk) but this extra distance to the same car park can be walked in an extra 10-12 mins anyway from Wagtails and down a gentle sloping idyllic country lane. We think it is better/simpler to walk the extra.
There is currently a footpath diversion around the "sea wall" (embankment/dyke) at Cheriton Pill. This is due to the sea breaching the bank and the Environment Agency/National Trust deciding not to put it back but to allow natural sea ingress. They compulsorily purchased some acreage in the Cheriton Pill/Cwm Ivy area to allow this. This adds a new natural landscape dimension to the area and will change some of the local ecosystem over time (becomes saltmarsh not freshwater habitat. The diversion to the Wales coastal path at this section is now well signed. The village shop sells maps and can provide other information. There is a local movement lobby to see a footbridge build across the breached dyke – to remove the diversion. The usual slow wheels of public funding and planning disputes are in train and the whole thing has become quite political locally.
We are blessed insofar that the bus from Llanmadoc usually arrive/depart outside Gower Cottage adjacent to Wagtails. Summer and winter services to differ slightly. To catch a bus to Swansea requires either a route via Gowerton (116 service) or changing buses at Llanrhidian and then via Upper Killay/Sketty (116 then 115/118 service). It is possible to get the bus to Rhossili, or Port Eynon from Llanmadoc (115/118 – change at Scurlage).
Bus routes are found on
Bus times are subject to seasonal and annual change but can be found on
We are updating our bus information to be more useful as a result of these comments.
Tide tables can be found online - use Llanelli or Burry Port for most accurate times. https://www.tidetimes.org.uk/burry-port-tide-times-20161001
Dai and Heather have had guests with two children (even three on a couple of occasions) come to stay at Wagtails. That is merely a statement of fact. We have never suggested that Wagtails is ideal for a small family. It has a leather sofa bed but we believe that most people would agree that the apartment is too small for families, but very ideal as a walkers bolt hole for walkers who do not want to pay for the trappings of as full larger cottage but do want the fantastic location.
Yvonne and Clare were lovely people and whilst their feedback was fairly fulsome it was provided with due courtesy (which is all we could ask) and they would be welcome back anytime and we thank them for their genuinely helpful feedback.

David and Bronwem Mitchell
Bromley, Kent
Had a lovely week at Wagtails. Weasther mostly glorious! The Gower is fabuilous! Thankls for the wine and sorry to be leaving Dave Bron and Rory the dog - lovely bed !
Max & Mel Moore
Stoke On Trent, Staffs
Had a great week at Llanmadoc, Wagtails is small but homely. We shall miss the sheep and pponies who come to graze. Cakes at the shop are wonderful (should write a recipe book) and food at the Britannia the best we have had. Thank you Da and Heather for the wine and milk. Sorry we broke the door handle! Hope you like Wagtail the Sheep J made him in the evenings, relaxing and watching TV. Batteries are now recharged and ready for work next week and two Westie's who are now ready for a rest. Max & Mel & Piper & Maddie (:': Pawprint)
Marc, Margaret & Monty
Oxford
What luck to have managed to stay here and at the shortest notice! The accommodation couldn't be better, the quitter north Gower is lovely, weather perfect, We walked via hill, beach, cliff/bus. Loyal/local? for 3 nights to the Britannia for food and atmosphere. Really planning to be back before long; Monty will be overjoyed !
Mike & Lynne
West Mids
Always enjoy coming to the Gower – tried a new area - lovely!! Lovely welcome surprise wine for Mike Milk for me! Thanks Dai & Hev will be back xx
David & Pippa
Cambridgeshire
First visit to the Gower - so beautiful we will be back for sure Thank you Dai & heather x
Janey & Michael + Finty
Latham, Lancs
Had a great time lovely walks front front door Didn't quite manage to work our way through all the delicious cakes in the shop but almost! Dai + Heather are very helpful + friendly, hope to be back soon. !
Suzanne & Martin Holloway
Petworth W Sussex
W alking
A round
G ower has been wonderful
T he Beaches are fantastic
A partment is perfect and
I n
L ovely
S urrounddings Thank you

Dan &B Hannal
LIverpool
What a great base to explore all over the Gower which is glorious 30degrees Centigrade while we were here. I can recommend all the NT walks nearby and fish & chips on beach at Mumbles and Perriswood for Arrows Talons and tea (Dai - Archery and birds of prey at Penmaen/Nicholaston south Gower).
Wendy & Trevor
Debyshire
Gower is beautiful, stunning, relaxing and a little piece of heaven. We'll be back to this wonderful area!
Derek and Sue
Eastbourne
A lovely tranquil spot with stunning scenery and all the coffee and cake at the local shop an absolute must.
Carin and Vaughan
Hilingdon
3rd time here at this wonderful place thankx for a great stay wonderful hosts see you next year XX
Diane and Mike
Cheltenham
Thank you for a lovely break, very friendly village great pub, accommodation, thank you for wine and being so welcoming.
Michelle and Ellie plus Ted, Truly, Stan Grace and Besswell.
Bristol
We have had another lovely stay at Wagtails. The dogs as always have had a wonderful holiday. Despite the rain and thunder and even a sandstorm early on in the week the sun came out and it's been glorious.
Jane & David
Abergynolwyn, Gwynedd
Lovely week spent at Wagtails. Lots of beautiful walks in and around the village. Favorite – the walk through Cwm Ivy to Whiteford Burrows! Good local pub for food (+ drink!) and a village shop serving cream teas! Lillie the border terrier tired out but happy. Regards Jane and David X
Clive & Valentine
Micheldever, Hants
Fantastic walks and scenery. Local people very welcoming and friendly. Lots to do and many places visited, all within an hour or two drive. Thank you for a great holiday, Roeben our Border Collie doesn't want to go home. In fact we don't either, Kind regards, Clive and Val.
Christopher and Wendy
Oxford
Lovely place, friendly people, comfortable cottage, marvellous weather!! A perfect way to celebrate my 80th birthday!! The beaches are great the walks a delight, with plenty of nice places to rest and eat. I hope we shall come again.
Dawn, Derek and Daisy
Swindon
Weather on arrival very wet and strong winds, Apartment cost but as bit smaller than expected. Good area as close to Rhossili + Oxwich Bay lovely. The dog enjoyed it too. Thanks will visit the area again. Thanks very much for the wine nice touch. It was lovely.
Alison and Richard & Molly
Porthleven, Cornwall
Absolutely fab holiday in fantastic location everyone so friendly, great shop – and as for the cakes….!! (Diet when I get home??) Highlights:- walks on/to both beaches; walk up mountain "Penyfan" in Brecon Beacons (thanks for advice and maps Dai) ; Did I mention cakes; Meal at pub; Welsh hospitality and friendliness; Great weather, great holiday, Thank you.
Damien and Elaine & Sparky
Somerset
Loved the walks along the beach, the beauty of the Gower Peninsula, the friendliness of the people of Llanmadoc, the helpfulness of Dai and Heather and the cosiness of Wagtails. We are relaxed and Sparkey is "Sparked out". All gone to plan, Thank you Damien & Elaine x
Sandy & Kevin Roberts
Backwell, N. Somerset
Brilliant, Weather for time of year wonderful walks., returned again visited last year (Aug 2014) Just amazing !
2014

2014

Rhona & Hadrian
Kidlington, Oxon
Superb 5 days – a real treat just to "be still" for a while. The cottage is a gem & NYE with Dai and Heather was an unexpected pleasure. Thank you Rh XX
Emma and Martin
Grasmere
We walked and walked and walked and walked…..Wagtails was great for our Xmas holiday. We enjoyed singing around the village Xmas tree. Buying pottery with our Christmas money and watching "Strictly" final live (as we don't have a TV at home) THANK YOU. Xxx
LM WIlliams
Cromer, Norfolk
Wet week lovely walks in local area. Much visiting of local relatives loved cottage – warm comfortable and great to have bath! Thanks for welcome pack. Local Shop amazing.
Lucy & Dicken the dog
Leamington Spa
Very fortunate with the weather fantastic walk over hills to Rhossili and back along beaches/coastal path in full sunshine! Definitely recommended Great break – away from ork etc. Thank you for providing such a superb cost, comfortable retreat and the wine was excellent and very thoughtful. Hope to be back soon,
Bridget and Tony with Blue
Southmoor, Oxon
Thank you Heather & Dai By far the comfiest cottage we've stayed in, loads to do and see. Oxwich beach was Blue the Lab's favourite.
Dave & Mandy
Whitestake, near Preston
Fantastic weather all week only rained in night. Walk over Rhossili Down and back along the beach on a sunny day was absolutely amazing.
Sue and High Crosbie
Marple Bridge, Stockport
Very enjoyable week here scenery is stunning Meals over the Britannia were excellent, especially the steak! Dogs loved romping on the beach.
Brenda Wallace (6 Sept)
Llanelli
A wonderful week, left the car behind and walked / bussed everywhere 3rd holiday here in this lovely little cottage. Batteries fully recharged. !!
Carol & john Sutcliffe
Bakewell, Derbyshire
What a wonderful week of weather – not wall to wall sunshine because of sea mist Two walks I'd mention in particular. The one out along the Whiteford Burrows to the Lighthouse Another over Llanmadoc Hill ("Mountain" ) and along the ridge to see the gorse & heather in bloom. Very comfortable here & Heather and Dai so helpful. All the pubs we found very busy as such wonderful weather.
Sandy & kevin (with Rudi & Milo)
Backwell, North Somerset
Many thanks to Dai and Heather for being so understanding when we were called back earlier to go home due to my mother's illness We returned to spend a few days here @ Wagtails and so much want to return again! The cottage has everything you need with a local pub (Brit!) Great food friendly people lovely walks and a beach that beats all beaches locally! Thanks for the wine it was much needed. Dai & Heather are such kind and lovely people Best wishes to you both regards Sandy and Kevin.
John Gill (Toffee and Judy)
Pontypool
We have thoroughly enjoyed our stay here. The cottage is cosy but very well equipped lots of lovely walking in the area. Lunch at the pub was very good Wine very drinkable! Thank you very much. Hope to come back.
Roger and Sarah
Oxfordshire
Second visit here – another memorable stay It was good to see you again and we hope to return! Thanks again for everything.
Alison and Ray & Pippa (Bavachon/Cavalier/Bichon cross)
Marden near Hereford
Back again for our second visit one week last year two weeks this time which says it all. Pippa's first birthday (not quite 9 months) - loved the sea and ran in the and swam second day of on the beach. Weather perfect our first week and no rain at all until last two days of the fortnight, but that much less than expected and we had a good walk in the dry on our last day. But the weather, however good or was the icing on the cake. The cake is Gower and its people in this village above all Dai and Heather and Wagtails for a base. Thank you for your generous hospitality. Alison and Roy Leigh.
Michelle and Ellie, Truly, Ted and Stan
(12-19 July 2014)
Bristol
This is our 3rd Visit to Wagtails as you may of guessed we love it here. Thanks again for your hospitality we hope to see you again next year Love the new (floodlit bathroom) mirror!
(Dai: This was installed to replace the oversize bathroom cabinet which prevented leaning over sink. It cost over £230 and has lighting all around it plus a shaver/power point and swipe on/off etc. - so Dai sneakily put them up to paying it a complement to justify the expense).
2013



17th to 24th August 2013.
Our family had a really enjoyable visit and we enjoyed being close to the sea and near to the Britannia Inn. We loved Boo the kitten who was 10 weks old! We can\'t wait to come here again! Had a fabulous time here and are very much forward to coming again, Ann, Jana, and Matthias, xxxxxx (heart shape). Thames Ditton, Surrey. (Boo is Dai and Heather\'s new black & white kitten).
10th to 17th August 2013
Many thanks for an enjoyable stay. Had a fantastic week in Gower & were lucky with the weather. Brilliant cottage, very well equipped. Look forward to staying again in the future. Paul, Christine, and Jack.
3rd to 10th August 2013
We really enjoyed our stay on the Gower. Amazing Walks every day, fantastic weather (mostly). Cakes to die for at local shop and very friendly. We finally tired out our two dogs. Very comfortable bed. Hilary and Mick Cartwright + Bob + Fig. (Kingsbridge , Devon)
20-27th July 2013
Many many thanks for a wonderful week. We hope and intend to be back next year - for Gower and Wagtails. Our first time here. Why havent we discovered you before!? Quality of equipment in Wagtails is unprecedented in our holiday cottage experience. Alison and Roy Leigh. & Lucy the Cavalier King Charles. (near Hereford)
July 13-20th 2013
Another lovely week with great weather ! Anthony Jill and Pip the dog. (Welwyn, Herts)
July 6-13th 2013
From the very first time we visited your excellent website to the last day of our stay in "Wagtails" we can honestly say that the whole experience was very enjoyable. The weather was truly exceptional all week - one day it was 33 degrees. We agree with everything the other guests have said in previous pages of this book. We are sad to be leaving after having had a wonderful time in a beautiful place. Thank you very much, Alan and Kay Bowyers and our King Charles Spaniels Molly and Kitty, Chesterfield.
June 22-29th (2013)
LOvely cottage! Never been to one so well equipped with such good quality equipment! Extremely comfortable. Dogs enjoyed the garden (sorry about the racetrack round the top table!!) Thank you for everything. Mavis, David and Guide Dog pups Madgie and Ian (aka Magician!) Gillingham Kent
June 8th to 15th 2013
Came down for Gower Walking Festival and enjoyed good organised walks as welll as exploring on our own. Weather very good overall, even managed to get a bit "singed". Ate out at Britannia (twice in restaurant, once in bar). Foood very good atmosphere changeable depending on who was waiting. Luke is a credit to them, happy and smiling even when working under pressure. Enjoyed good food at King Arthur Reynoldston, Greyhound Inn at Oldwalls and KIngs Head Llangennith. Favorite was home made pizza home cooked chips and salad at Smugglers Haunt in Port Eynon. Dont miss the beach at Broughtopn, views from Llanmadoc Hill, and Rhossili Down. Local Shop is excellent thats the way to do it !! Thank you for a wonderful stay.
Trev, Clare + George (Border terrier) From Cambridgeshire. xxx
Fantastic week, sunny all week! Great beaches, swam in the sea whichg was warm, at in the local pub, delicious food and beer. Garden is really nice to sit in and have a beer after a day on the beach. Peaceful village with a good local shop, loved the cakes. Lovely cottage in a great place cant wait to come back. Carin and Vaughan, Hillingdon.
May 25th to 1st June 2013
Only rained on one day Only used the car one day Lots of walking and amazing scenery. A really memorable break. Thanks for all the thoughtful things in the cottage. Hope to return sometime. Roger and Sarah from Oxfordshire. The garden is fantastic, Thank you.
Thank you Heather and Dai Everything we had wished for - sorry didnt meet Heather Our first visit to the Gower and we werent dissappointed, fantastic views and beaches. Weather was reasonably kind, managed to do lots of walking despite the wind. Our dogs Freddie and Rolo had a great time they really enjoyed making friends on the beaches and around the village. Sheep, horses, and the "shop dog". Village shop marvelous for cakes and picnic nibbles. The "landlord" of the Kings Head in Llangennith was a bit grumpy. Food and ale good though. Had 2 excellent meals at the Greyhound highlights for us were: -
The walk down to Broughton Bay from the cottage. Did this most evenings;
Rhossili & Worms Head in the wind?
Oxwich Bay and the coalhouse cafe - right on the beach. Langland Bay - very sheltered, dogs not alowed oin beach but can take a walk around coast headland to Caswell Bay.
FInally, breathtaking walk over Cefn Bryn common, in 60 MPH wind, we;\'ve had a geat week pity cant stay longer Thanks again Mary, Geoff, Freddie and Rolo, Evesham Worcester. (ed - subsequently after writing this our guests were invited into our house on saying farewell and met Heather who cuddled Rolo the naughty looking but lovely little dog).
May 3rd
Another Heather stayed here with Rob and Cassie (picture of dog drawn!) all enjoyed the peaceful village, cassie loved the sheep, Heathers stick together! Love Rob & Heather.
Feb 11-15th 2013
We have had a lovely break away from it all this week. The Cottage was warm and cosy and very well equipped with everything we needed for a comfortable stay. We enjoyed long walks along the Broughton Bay to Rhossili bay and over the broughton burrows. A walk to the top of Llanmadoc Hill is a must - the views are great up there!! We were lucky with the weather too which is always a bonus but its February we didnt expect good weather and would still have enjoyed ourselves if we\'d had rain. Going home with good memories.
Wonderful little "bolt hole" to discover the Gower - thank you so much. Come rain or shine (actually rain mostly) we have loved a great weekend. Appreciated the TV, BluRay & Digital radios - really well \'kitted out\' apartment, Thanks
21st Jan 2013 - 28th Jan 2013
This was my first visit to this area of "The Gower" and I now know why all that live here try to keep it a secret. (LOL). I found the village to be so peaceful with everybody being really friendly. I cannot praise Dai and Heather highly enough for their help whenever i needed it. and Dai\'s chicken soup was gorgeous after returning from a long walk with my dog. I come down here for a relaxing break and its just not long enough. I found the cottage to be cosy, warm, and well equipped and would definitelyt stay here again if they will have me and Ruby (dog) next year!!
Glen Thompson + Ruby ! (Northants)
Our first time in the Gower with our one month golder retreiver Nala, What a beautiful unspoilt place this is. Broughton Bay and Whiteford Bay all around a 20 min walk or so from Wagtails are lovely and perfect for doggie walking and swimming in the sea! Would recommend Worms head for a trip which is breathtaking and Pembrey Country Park is also worth a visit. although very vast and not too well signposted. So go careful not to venture off the beaten track. ! We didnt eat at the local Britannia as no dogs allowed (Editors note: Dogs allowed in bar only) but the Greyhound which is a 10 minute drive away is brilliant and dog friendly. the food was amazing would recommend it the steak and ale pie and the Greyhound Chicken. Wagtails is a lovely little cottage and well equipped. Particularly liked the fact soap, washing up liquid, dishwasher tablets, tea/coffee, milk and a lovely bottle of wine were included, a lovely tough. for a self-cater cottage. The weather has been perfect this week too, which was a bonus!
Thank you Gower and Wagtails for a lovely holiday,
Cara, Steve and Nala (\'dog paw mark\').
15th Sept - 22nd Sept 2013
A lovely peaceful week with good weather .Wagtails is in an excellent position for walks which we made the most of and the Village is beautiful. We have now been to every beach on the Gower which allows dogs and Pobbles has been voted the Favourite by both us humans and the dogs. One word of warning - check the timetable before walking to Rhossili assuming a bus ride back - wrong - just a three hour return walk having already done a three hour walk there! Thanks Heather the wine saved our day! We havent eaten out much but the King Arthur at Reynoldston takes a lot of beating. Our one day off the peninsular was to Tenby which was wwell worth the 1.5hr drive. The week has been very enjoyable and we will definitely be back when our feet have recovrered., Thanks Heather and Dai.
John and Chris Cooper (and Welshies Bryn and Rhiannon.)
2012
This is out first time to Gower, We had a great time exploring this area with our dog Lottie. We had a lovely day Sunday crossing to Worms Head although a little tricky underfoot, lots of seals to welcome you! Walking from Wagtails to Whiteford Sands passed the lighthouuse and back through the woods was wonderful. The walk through Pennard Gold Course) (must come back to play it sometime) to the Three Cliffs Bay and back to west cliff for coffee and lovely carrot cake was a great day. Good food in all the local pubs althought it is worth booking the tablke at the greayhound at the weekend as we got caught out last night! Had to sit upstairs which isnt the best ! Six days rain forecasted only rained one day, very lucky,
Thanks to Die and Heather for everything
11th to 21st November 2012
The First German Potter on Gower. Experienced quite many a shower but Dai and Heather chased away the bad weather. Thus I spent more than one happy hour. Thank you Heather and Dai for an unforgettable time in a stunning place. Bodo (Bickenback, near Frankfurt, Germany)
http://www.roeder-keramik.de/bodo-roeder.htm
2011
(Still being typed up)
2010
(Still being typed up)
2009
27/12/08 21/09Perfect cottage, ace few days. Will be back - huge lawns
(we think this is what is says)
and dog friendly! Many thanks, Kate and Woody. Isle of Wight.
4th to 9th January 09
We can do no better than endorse all of the wonderful comments made in this book. We have been blessed with glorious weather that has allowed us to enjoy the great walks that the area is famous for. "The Hill" is a must and dont forget your camera because the views really are brilliant. We would recommend a visit to the "greyhound" for excellent bar meals and the "Britannia" for \'a la carte\' and a good quiz on Wednesday nights. Heather & Dai are the prefect hosts very welcoming on our arrival and just next door if you want any information or just a good chat.
Bill and Marian, Newport, Gwent.
New book starts........
26
th
January 2009
My daughter and I have enjoyed a lovely stay for the weekend, people in the village were very friendly, didn't get to meet Heather but Dai was very welcoming and helpful. The cottage was cosy and well equipped and the sitting beautiful. Would love to stay again, good luck, Jull, Ceri and Ebony. Cardiff.
7-14 Feb 2009
Have really enjoyed our first visit to Gower. The weather has been kind (after a week of snow at home). We have visitied incredible beaches and walked miles with our lurcher Stanley. The best walks are from the cottage – Cwm Ivy woods ton nature reserves; over the dunes to Broughton Bay, then over the cliffs to Rhossili Bay; Whiteford Nature reserve to birdhide, rounf Whiteford Pioint, pasdt light house , along Whiteford beach & back to Broughton bay – and we've hardly met a sould on these walks – wonderful! Cottage is warm and cosy , well –equipped and in an ideal , peaceful location. Thanks
Tim, Angela Hodges, Wolverhampton.
14
th
to 21
st
February 2009
Another lovely week in Wagtails, wonderful weather. Lots of walks with our dog 'Bella'. In fact we plan to move here so watch out the Wilsons will be back. Thank you Dai and Heather for your help, Janice, Neil,, and Bella.
(Neil and Janice subsequently bought a property in Llanmadoc, and moved to Llanmadoc from Belgium!).
21
st
-28
th
February 2009
We have really enjoyed our week in Llanmadoc. Cottage is very cosy and well-equipped, villagers very friendly, and it is a great centre for walking, and bird watching. The Britannia Inn does excellent food. Many thanks, Val & Chris Parkinson.
28
th
Feb to 2
nd
March
Only 2 days but very enjoyable. Lovely village and 2 days spent walking with Max our dog. Accommodation was very nice good choice of wine also. We enjoyed the Gower as much as we love Pembrokeshire. We will visit again. Many
thanks, Roger and Jenny Clutterbuck, Forest of Dean.
March 4
th
09.
From the distant welcoming farm houses on the paintings, to the antique pine and luxurious bath fittings, truly sumptuous get away. Hi tech if you desire, although we never switched on the tv. But enjoyed the silence, that was only broken by an in depth chat or two and the sound of tired snoring hounds. Thanks, Wendy and Paul (and 3 dogs, (all well behaved I might add!).
March 8-10
th
(2009)
Beautiful area, lovely beacjes and walks. We only had a couple of days but would hope to return in the future. Nice apartment with good amenities. Thanks you, Simon, Julie Cowan, Frome, Somerset.
March1 14-21
st
(2009)
Wagtails is a cosy well equipped cottage in a fantastic location. With wonderful beaches, lovely walks, and we had sunny weather to do all the walks. We did not eat at the Britannia Inn but Wednesday quiz night certainly provide to be a challenging bit of fun night. We also recommend "out shop" for picnic items such as cakes, rolls, and pasties. We had a great week, and will be coming back to Gower. Paul, Liz, and Jack, from Cardiff. (Pawprint!)
21
st
– 28
th
March. 09
Really enjoyed the peace and quiet of Llanmadoc, the sight of the occasional pony and a few sheepo just passing by the front. Our dog Toby made friends with the local village dog "Twm" who regularly came around each morning and came with us for a walk around the village. Some lovely walks around Gower. Thanks Dai and Heather for your hospitality, Nigel, Linda and Toby (Cardiff).
March 30th to April 5
th
2009
Our first visit to Gower and we really loved it (except Mumbles) Lots of great walsk and fantastic views and scenery! Quality food, from pubs to restaurants and fairly priced. Friendly locals, especially in "our shop". And the bus drivers. (?) Daiand Heather have installed quality fittings and furtnishings and it is great to have some basics in the kitchen (salt, pepper, sugar, dishwasher tablets, rubbish bags, gin! Etc ) We had a great week, thanks very much ! We'll recommend you to any friends who want to visit – we may even try to 'persuade' a few! Neil Binder and Bev Chapman, London
Wagtails guest comments April 10
th
2009 onwards
April 10
th
to 18
th
2009
Thank you so much for your lovely cottage and all your advice which helped make our much needed break so fantastic. The walks were amazing and our 2 cocker spaniels loved it as much as we did. We had a wonderful meal at the Britannia Inn Wow! We also enjoyed our meal at the Greyhound very much. The cottage was very well equipped and I had every thing needed to make us some lovely home cooked food as well. We will definitely be back soon. Thanks again
Sarah, Mark, Zola, & Millie (Swindon)
18-22
nd
April 2009
Fantastic setting, lots of fabulous walks and unspoilt beaches. Location brilliant to see all the Gower. Views from Llanmadoc Hill – a joy. Lovely meals at the Britannia Inn and very friendly people. Local Siop brilliant with everything you could wish for. Great to have Sky TV, football was brilliant.,. We have been blessed with fantastic weather and had to put the shorts on. ! Our dog Indy has hadthe time of her life and I have never seen her so tired. Thanks you Heather and Dai for your lovely apartment, we have enjoyed every moment and will be going home exhausted from so many superb walks. Sue & Adrian Hyde (and Indy), Shropshire
25
th
April – 1
st
May
Another great stay, weather held up well for walking and the three of us making the dog walk for miles. A mist walk is over the hill behind the cottage and back alaong the beach. Lunch at the pub of your timing is is right. Dolphin and King Arthur we found the best. Britannia about 30% dearer. Local shop is a must, give them as much support as you can. Bread and cakes are unbelieveable. Thanks again Dai and Heather – we will be back again.
Tony and Myra. (and Sadie) Leek Wootton, Warwicks.
4-8
th
May 2009
Fantastic break. The walks from Wagtails are outstanding. The best view, we think, is as you climb Llanmadoc Hill looking back to the Marshes. Treated ourselves to lunch at Fairyhill Hotel – well worth the expense! Helen, Susie, Morris and Susie (Penarth)
16
th
– 22
nd
May 2009
Has to be the best holiday we have ever had in the UK. The beauty of Gower is amazing and we have never seen as many lovely beaches and nays as here. The view of the area from Llanmadoc Hill has to be seen to be believed. We had a gorgeous 3 course meal at the Greyhound. !!! Beautiful and hioghly recommended. Heather and Dai are lovely hosts, friendly and funny. We would say that they have provided everything for our creature comforts, and the décor and furniture is excellent (especially the moirror in the bathroom). We have walked the legs off our dog steffi and she says she is glad that she is coming back here in September.
Sheila and Barry and Steffi. (Chester).
23-30
th
May 2009
Gower is a great place, especially when the weather is kind (only one rainy morning). Llanmadoc a pretty village – shop great and an excellent location. Enjoyed being able to walk to the beach and collect driftwood. Idyllic day at Rhossili, with plenty of space even on a bank holiday and Fall Bay fun watching the rock climbers and seals. Beautiful weather for Three Cliffs Bay, such a lovely spot. Our second visit to Gower and are plac we'd recommend to others. Had a very good meal at the Britannia Inn – a great mix of good food and relaxing surroundings.
Sylvia and Mary (Kent).
30
th
May – 6
th
June 09
First visit to Gower, wonderful scenery walks, etc. Really lucky with the weather this week. Finished the week off with a "bracing" walk across Rhossili Down, finished walk in 2 hrs 20 mins so within the 2 hrs 30 mins mentioned in the guide. Not bad for a pair of pensioners. ! nice well equipped cottage in an excellent location. Can thoroughly recommend Castellamare Restaurant just outside mumbles overlooking Bracelet Bay. Really friendly people in the shop – well done to the village in keeping the Post Office and shop going. Delicious home made cake! Beach within walking distance, try walking along the beach towards the Old Lighthouse, cut in through the sand dunes and walk back through the woods, idyllic. Oxwich Bay is probably the most accessible beach, car park right next to the beach. ! Overall we had a really relaxing week, well done Dai and Heather for providing all the necessary information in the guest Information folder. Would recommend Wagtails to our friends.
Stuart and Kate (Sutton Coldfield).
6-13 June 09
Thank you Heather and Dai
For your lovely snug, cosy apartment Home from Home. We had a lovely week blessed with good weather. The scenery and walks "fab". Oxwich Bay was a favourite because our woofers could have a good run. The sheep everywhere restricted our walking locally. But we enjoyed the climb up Llanmadoc Hill. And the walk through the forest to the lighthouse beach. We would recommend "the Greyhound" for good pub grub. I consider "Wagtails" to be the best holiday Accommodation we have stayed in…
Barbara – Mike – (and Jack – Jimmy) Fascione (Kidderminster)
13-20
th
June 2009
My first visit to Gower. I enjoyed many lovely coastal walks in mostly sunny weather; hope some of the photographs come out well (using film this week so I have to wait and see). Altogether an excellent week. Robin.
(Ed: Robin suggested to us that we should not seek to advertise the cottage as suitable for children as he felt it is too small. To take this on board in the constructive context that it was meant we have reworded our advert / website to ensure enquiring customers know that it is only a quite small one bedroom apartment with a sofa bed in small lounge, and we always explain to guests by phone that whilst we have had families stay, including three with three children, all of whom have entirely enjoyed their stay, we do not ever suggest that it is ideal for families with kids due to sleeping restrictions and space constraints).
20
th
– 27
th
June 2009
Our first visit to Gower have been lucky with weather. Really rugged coastline and beaches. (Hope you like walking!!!) best beach for us and dog millie was Oxwich Bay (very dog friendly). And parking very close to beach. Local "Our Shop" very good but be careful about the closing time as this seems to vary from day to day! Can recommend King Arthur food and service very good, dog friendly and garden, fair price, The Britannia is closer but a bit of a rip off price wise and portion wise! Its saving grace is that it is close enough to "Wagtails" to stagger home to after a drink. (it alaos has a garden if you have a dog). Retty Village location, (hope you like sheep on the doorstep!) Village dog very frieldnly and likes to come and visit, horses also like to come and say "hello", much to our dogs disgust!
Altogether a good week,
Alison and Stephen and Millie (Giant Schnauzer). Northants.
27
th
June – 4
th
July 2009
Very impressed with "Gower" beautiful scenery and long relaxing strolls along the beaches and cliffs tops. In spirit of heatwave the weather was always conmfortable near to the coast. Cotage "Wagtails" excellent with everything we needed and more. Garden a relaxing sun trap in late afternoon. The local "our shop" was a great asset with all daily needs and friendly people to greet you. Tried all the local eating places all within very nice people to greet you. Tried all the local eating places all with nice outside space so dog could come as well. Loced the villages laid back feeling with sheep and horses etc., Hope to come back again.
Hazel, Jeremy Watson, (Bedfordshire), & Rosie the dog.
4-11 July 09
Despite changeable weather we've had a great week. The open gardens event was a fantastic way to meet everyone and to see the amazing gardens – if you're here next year. Don't miss it,. Top tips, have a fab meal at Britannia Restaurant / walk through opine woods, to Whiteford burrows / for fab views walk over top of Llanmadoc Hill. Thanks to Dai and Heather Dai we're still waiting with the frying pan for that fish!!
Heather and John Pegg, Stamford, Lincs.
18-25
th
July 09
Many thanks Dai and Heather for a fantastic week. We greatly enjoyed and appreciated the quality of the furnishing, and all homely touches in the cottage. We will definitely be returning to Gower! Things we really enjoyed:-
Rhossili
– Walk over headland is stunning and the beach is wonderful to play on. Also enjoyed the pub with views over the bay.
Favorite walk
– Walk to broughton beach by road and then return along the beach to Cwm Ivy – though Dunes and up lanes back to the village (check the tide is going out!)
Llanmadoc Hill
– An absolute must - the view is stunning.
Homebaking
– from "our Shop" Fiona and Eric Stevens, Sheffield (and Pete the dog. )
24
th
July 2009 for one week.
(lost track of dates which is a compliment about how relaxed we've felt). We've had a great week. First time in Gower and we love it. A great welcome wherever we've been and especially Dai. Sorry I didn't meet Heather until last day because she was working. Our favourite day out - - catch 9am bus to Rhossili, breakfast at Bay Bistro with spectacular views and good coffee, then walk back along the Hill back home. We're very keen to come back with the family to Middle Cottage. "Our shop" was brilliant and the village won best village in S Wales and best village community in Wales whilst we were here! Mike and Lin and Branna, the Welsh Springer (Ryton-on-Tyne),
8
th
to 15
th
August 2009
A lovely week in the Gower and really enjoyed our stay at Wagtails . Would have liked to have done more of the recommended walks in the area but at 7 and half months pregnant had to search out the shorter and flatter ones. ! Had a great pub meal at the Greyhound, huge portions – great when eating for two! Thanks very much, Ursula and Andrew MacFarlane, (+ big bump !)
Aug 15
th
– 22
nd
2009
We have thoroughly enjoyed our holiday in Wagtails and in Gower. Wow what beaches. Our dog, Sky, loved to run and run and definitely had a great time. Meanwhile our daughter Sophie 10 yr old, enjoyed Sky tv, and WIFI. Hard to please everyone on a holiday but somehow we did. I am amazed that such a beautiful area, can also be so quiet, Wonderful,
Thank You,
Bridget, Tony, Sophie, and Pitcairn and Sky the working Cocker Spaniel. Ilkley, Yorks
22
nd
– 29
th
August 2009
We had a pleasant but wet week in the Gower. Heather and Dai were lovely as is Wagtails.
Rhossili Bay
– stunning walks down onto beach. Plenty of room for everything on the beach and only £2.50 to park al day.
Fall Bay
dog beach – lovely walk with great views from car park at Pitton, steep climb down ontyo beach, car park £2.00.
Port Eynon
– Not dog friendly, which was a shame as it was the childrens favourite beach. Nice chips though.
(Ed: part of bay is to right towards salthouse see dog guide).
Oxwich Bay
dog beach – free car park, right on beach – busy.
Three Cliffs Bay
– Beautiful beach, adults favourite! Freee car park up by the church. (Dog beach).
Broughton Bay
(dog friendly) – Nice gentle walk from Wagtails.
Weobley Castle
- £7.70 for a family Ticket. You wont be there for long not much there
Gower Heritage Centre
- £16 for family ticket, all craft activities extra (£2.50 each).
28
th
August – 5
th
September 2009
A wonderful week. Wagtails is a lovely cottage small but well equipped. Mixed week weatherwise. Wet and windy to start but weather turned in mid week to give us some long sunny spells. Can give a strong recommendation to chocolate brownies and custard cream slices from the local shop (the plum jam)!!
Local walks both beach and pine woods are ideal (but would suggest the circular walk from Llangennith to be a relaxing ¾ mile trek (page 49 circular walks in Gower on wagtails bookshelf). Our two dogs - Bea and Holly, enjoyed every minute of their time on the Gower and definitely want to return. A wonderful holiday for all. Hillary and Tony Farsley, Shipston-On-Stour, Warwickshire.
12
th
September – 19
th
September 2009
A lovely peaceful and gloriously sunny week in Llanmadoc, Wagtails is comfortable and well equipped (except for a fish slice – for friend eggs). A lovely location with super beaches in every direction. Loved the little shop – almost next door, and also the ponies and sheep. Who seem to well at home in the village. Had some good walks everyday, Sue and John (Rusthall, Tonbridge Wells, Kent).
4-11
th
October 2009
What a beautiful village! We loved it here. Places to visit: (that we visited!).
- Whiteford Bay and lighthouse (at low tide) (via lonhg route)
- Rhossili Nay, over Rhossili Down to old Radar Station Station, enjoy the views, back along the beach. Worms Head, Fall Bay.
- Cefn Bryn – beautiful views on every side, ponies and neolothic monument Arthur's Stone.
- Oxwich Bay to fly the kite,
- Llanmadoc Hill to meet the ponies and enjoy the panorama.
- Southgate – east and west cliffs – pennard stores café for a lovely snack and coffee.
- Prissens Tor, overlooking Broughton Bay
- Popped out of |Gower for a couple of hours to Kidwelly Catsle (lovely);
- Port Eynon, walked up to the monument and flew kite, enjoyed views then cliff path downwards towards Oxwich.
- Places to eat – Pennard Stores at SouthGate for lovely coffee and sandwiches/cake;
- The King Arthur at Reynoldston – good for us veggies and very cosy. Suggest booking for weekends.
- Chutneys Indian in Mumbles, nom nom nom!
- Places not to bother_
- Compass Café shop near Reynoldston, rude, unhelpful, and feels like a supermarket toilet.
- Thanks for a great week! Annie and Tim (Kidderminster)
p.s. try geo-caching – it takes you to places you might not normally reach!
11
th
to 18
th
October 2009
Another glorious week in Llanmadoc – warm and dry with lots of sunshine. Perfect for all of those lovely long walks through the woods, along the beaches and up Llanmadoc Hill.
Very pleased to support the shop – a great way to meet a few of the local residents as someone different was taking the turn every time we went in there. Always friendly and welcoming. If you're looking for the local traditional food, try Selwyns near Crofty for cockles and laverbread. Again, an excellent and friendly service. All the nice little touches in Wagtails were much appreciated and we're already planning our next visits here next year. Margaret and Robert Foot, Huddersfield.
12
th
September – 19
th
September 2009
A lovely peaceful and gloriously sunny week in Llanmadoc, Wagtails is comfortable and well equipped (except for a fish slice – for friend eggs). A lovely location with super beaches in every direction. Loved the little shop – almost next door, and also the ponies and sheep. Who seem to well at home in the village. Had some good walks everyday, Sue and John (Rusthall, Tonbridge Wells, Kent).
4-11
th
October 2009
2008
Comments from previous guests
NB: Guest book opened March 2008 following refurbishment
(All guests comments laid out here are exactly as left by guests (good or bad, critical or not), with no ommissions or additions, and are verifiable via Guest Email address being provided on request)
4/4/08 Julia and Glen (& Alfie), London
Always good to be first at something…so here we go..!! Dai and Heather were friendly, humerous and very welcoming. if you ever need anything!! just give them a knock. The compact warmly feeling cottage was ideal for our needs…"best not let your into too many secrets". There's everything you need and more. It felt like home from home…"but the cleaner lives next door". I hit the surf at Caswell Beach for several days so didn't do much sight seeing BUT!! We will be back probably in more ways than one. We are considering moving to S Wales after this amazing stay. All I can say is Good Luck to Dai and Heather may they prosper. Cheers guys you were a pleasure to live next door to…!! Love Julia and Glen (& Alfie), London, 2008. xx
12/4/08 Chris, Margaret, & Helena (Bramley nr. Reading).
What a lovely place Gower is! Dai and Heather were very helpful and Wagtails is a nice little apartment, well equipped. Helena (15 mths) enjoyed …scoffing ice-cream in Verdi's (Mumbles). Toddling around Weobley Castle. Seeing all the animals and saying "Baa" to the lambs at the Gower Heritage Centre. Playing with her bucket and spade at OxwichBay. Mummy and Daddy enjoyed..walking to see Worms Head at Rhossili (fine with a pushchair). Rockpooling at Oxwich Bay (Starfish!). A lovely meal at the Britannia Inn. Walking at the sands at Rhossili Bay (from Hillend car park near Llangennith it's fairly easy to get onto the bay). The super toys and gifts at the heritage centre craft shop. Hope you have a super time too!" Chris, Margaret, & Helena (Bramley nr reading).
20/4/08 Pip and Mick – Eccles, Salford.
Lovely week on the gower with blue skies despite the weather forecasts. We'd recommend (1) WALKING OVER Rhossili Downs to Worms Head and Sitting on the restaurant of the works head hotel watching the sun going down over the bay. (2) saying hello to the animals at the Gower Heritage Centre pettng farm; (3) cycling round the lanes – easier with the wind behind you than cycling into the wind. (4) walking through the (Cwm Ivy) woods and onto the beach towards the (Whiteford) lighthouse. Pip and Mick
26/4/08 Laurence Vanessa Forster (Twyford, Berkshire)
We have been very pleasantly surprised at the whole aspect of our stay here. From the natural friendliness of everyone, particularly Dai and Heather of course! It has been a short stay more a fact finding than anything but it goes without saying it has been outstanding in every way. From the welcome we received the feeling of "coming home" every afternoon after a hard walk, the realisation that everything is to hand, with a really excellent local community shop providing all needs, s well as entertainment! We tried surfing which is a must if you feel brave enough. 01792 386426. The local footpaths to Whiteford beach are a must also, in fact you are surrounded by places to see and experience. We feel totally relaxed as we depart back hoe. But if it is a place never to be forgotten! We hope to be back in future. Laurence and Vanessa.
3/5/08 – Debbie And Nick, Hannah & Freya (And Millie) Gibson, Nailsworth, Gloucs.
Both the Wagtails and Gower has everything you need & more. There were plenty of gorgeous walks for Mille, the dog, and good surfing for our two girls, 10 & 8. Our stay was sadly short & wish it could be longer. Dai and Heather were extremely hospitable & have thought of everything! They have provided a very comprehensive guide of things to do and see, use it. Wagtails may be small but it provided us with everything we could have wished for – we will be back as there is so much more we haven't seen.
15/5/08 – Lyndsey and Greg, Bassenthwaite, Cumbria
We have had a really enjoyable week here at Wagtails. The weather has been fantastic allowing us to explore the Gower fully! As this was our daughters first holiday (6 mths old) we were not sure how she (and we) would cope! Heather and Dai could not have been more accommodating and understanding during our stay. Wagtails is compact and bijou - but it ws more than enough for a 6 mth old baby (and all her baggage!), a new mum and dad and two smelly, friendly sandy Labradors!! Thanks for a very memorable holiday Greg, Lyndsey & Rosa (Nell and Harvey). P.s. Dai is happy to fix anything - anytime of the day!!
20/5/08 Nancy and Geoff, Milton under Wychwood, North Oxfordshire.
(Sorry I've missed two pages out of this lovely new visitor's book). Only three days but we have really enjoyed our first (but surely not last) visit to Wagtails. The apartment is delightful and very tastefully and well equipped and the local area has been well explored by us on foot. We wanted to walk and relax and that is exactly what we have done. It has been a lovely place to have a choice of stting out areas and we enjoyed our first evening in the garden. During our stay we have felt that Dai and Heather were available yet unobtrusive. We were advised to sample the Britannia's Hake and Chips and were not disappointed. The weather has been sunny and warm but rain this evening – a lovely rainbow though! Here's to our next visit – thanks Dai and Heather we have loved it. Nancy and Geoff, Milton under Wychwood, Chipping Norton, North Oxfordshire.
31/5/08 Jill and Brian (Millsons Wood, Coventry)
Friendly people, nice cottage, lovely views, appalling weather (not Dai\'s fault) had a nice relaxing time. Beaches are great, Pembrey County Park is superb for dogs & kids (fried or boiled) and Llanmadoc Hill is a must for great views.
Hope to see you again soon, Best wishes, Jill, Brian and Pip the Pup.
14/6/08 Helen and David, Chelmsford, Essex
Many thanks for an enjoyable and comfortable stay. Gower lived up to its expectations and we had fine weather. Best wishes Helen and David.
21/6/08 Judith and Ian T., Bletchingly, Surrey
We have been made very welcome at Wagtails and have enjoyed a relaxing stay here. The scenrey and beaches are second to none, although we can\'t quite say the same for the weather! We particularly enjoyed meals at the Welcome to Town and Castellamare at Bracelet Bay (Mumbles) and we shall miss Joe\'s Ice Cream! Gower Beaches are beautiful and the scenery here is great but we also enjoyed our venture further afield to Brecon Beacons. A truly great holiday -
Many thanks, Judith and Ian.
28/6/08 Barbera and Tony (Bollingham, Cheshire)
We\'ve had a wonderful week in this lovely little cottage, very comfortable and warm to come home to when cool winds were blowing. The weather has been pretty good, we only needed waterproofs once. The walks are great around here especially the walk from Llanmadoc to Llangennith with a visit to the Kings Head to sample the local brew then back again via Bulwork on the top of Llanmadoc Hill with the wonderful views all around. The people in this area are very friendly especially our hosts Dai and Heather. The garden, is a lovely sitting area. The local shop is well worth a visit for the lovely homemade bread and cakes plus local chit chat. Thanks for a wonderful experience, Barbera and Tony.
12th July 08
We have really enjoyed our stay at Wagtails lots of lovely walks. Bella our dog loved every bit of her holiday even in the rain, we will be back soon as we hope to move to Gower. Thank You for making our stay so comfortable.
Neil, Janice, and Bella.
19th July 08 We have really enjoyed our holiday here. We have had a wonderful relaxing time whilst we explored Gower. We walked everyday, with our dog Diesel who thoroughly enjoyed his adventures. Llanmadoc Hill afforded us the most incredible 360o view of Gower and the Kings Arms was a welcome lunch shop. (Never enjoyed a shandy so much!). Last night we had a meal at the Britannia Inn here in the village. It was first class, but remember to book in advance as they get booked up quickly. We will hopefully return one day and will also be recommending this to our family and friends. With Kind regards, Lorraine and Richard Mason, and Diesel. (Cheltenham). .
20 – 27
th
July 2008
We've had a fantastic holiday break this week. We obviously chose the best week weatherwise – scarcely any rain, just beautiful subshine awithout it being overwhelmingly hot. Wagtails is an excellent base for a holiday and really comprehensively equipped with practically everything you could need for a holiday. Daui and Heather are excellent hosts – really friendly and available when needed, but otherwise unobtrusive. Enjoyed visiting all of the different bays and beaches around Gower. All are worth a visit and each is different in its own way – some great for rockpooling – some great for kids, some for swimming or surfing, others great for miles and miles of walking. Evening meal at Greyhound Inn in Oldwalls was great. Good quality pub food at very reasonable prices. Finished off with Joes ice-cream which is as fantastic as they say. We'll certainly be back again sometime. Paul and Sharon Goodwin, Sheffield.
9-16th August 08
What a fantastic apartment, we have never stayed anywhere that is so clean, new and tidy. As perhaps have said, a real home from home, although there are five of us here in the old post office, nothing has been too much trouble for Heather and Dai – to do even our washing and the lending of their hoover. We are just so pleased and overwhelmed by that kindness and the welcome and thoughtfulness that I cannot put it into words. E.g. Heather got Fabian a balloon for his first birthday – who else do you know who would would do that Heather and Dai - you are just so lovely we want to give you both big hugs, it's a shame we don't drink a glass of winde (well need to find somethingn else) We definitely want to come back and hopefully stay in Middle Cottage it will be nice to come and see you again - you're quite infectious people, we really like to get to know you more, and spend more time in Wales. (Scribble by Fabian, 12 mths). The Three boys have loved everything they can even commented on how thoughtful it was to find information on activitiers for them to do LC2. (
Ed..> Swansea Leisure Centre
). Please prmmise us that if you are ever in Bristol you'll come and visit us – or just come and visit us anyway – we really do feel like we have been your own personal guests rather than just renting out holiday accommodation from you. We hope we hevent been too noisy or complete pains, thank you so so much :') All out love Geoff, Natasha, Alex, Krispin, and Fabien, Big hugs and kisses. Xxxxxxxxxxx (Note from Dai and Hev - We swear we didn't make this up and were really flattered by this! )
16-23 August 2008A mixed week regarding the weather the sunshine came through eventually but even the rain didn't stop us. We had a lovely week exploring the picturesque location with some fantastic walks directly from the apartment, especially the one to Rhossili Bay. Recommend the food at the Britannia Inn. Facilities in the apartment excellent with everything you need. A lovely holiday altogether. Reg., Angie, and Doogie Nash, Rotherham.
23
rd
-30
th
August 2008
5/7 days rain, 2/7 days dry but overcast! Maybe 3 hours sunshine! This rather 'dampened' the holiday experience, but we managed to get out and about for some of each day. Recommend local walks, even if steep coming up from the sea! The shop is wonderful. The apartment has just about everything you'd need.
Michael & Pilla, Godalming, Surrey.
30
th
August- 6th September 2008
Dai & Heather made us very welcome. Lovely walks but weather was very poor, thanks for leaving heating on to dry our gear!
Tony & Susan, Needham Market.
6
th
-13
th
September 2008
Thank you for a comfortable stay. It's a great place for walking the beautiful coastline- well equipped, cosy and welcoming.
Gavin & Carol Scott.
13th-20th September 2008Excellent holiday, weather was perfect. Walks were the best! We had a lovely golden retriever call everyday to go for a walk with our Labrador and they had a lovely time! We really enjoyed taking him for a walk! We had lovely tea and cakes in 'Our Shop'! What else can we say! Enjoyed every minute of it and will be back as soon as we can. Thank you to both for a lovely place to stay and thanks for the wine etc! Liz & Rick Pugh
27
th
September-4
th
October 2008-11-18
Well what can we say?! Lovely cosy bolt-hole to return to each day after many miles of fabulour walking! Weather was kind overall albeit a tad windy most days! Peaceful & picturesque. Local shop is great, especially for naughty items like freshly baked cakes & bread. The dog friendly pub in Llangennith was good. Food was fair and provided energy for the walk back over Llanmadoc Hill. The views from the top of Llanmadoc Hill & Rhossili Downs are superb. Ruby (dog) thoroughly enjoyed her long walks and the beach is ideal as it is dog friendly all year round. Heather & Dai are lovely, warm, welcoming & friendly souls. We have had a most perfect week here and we are sad to go home. Thank you Heather, thank you Dai, we hope to see you again,
Warmest regards
Chris, Wendy & RubyX
4th-13th October 2008.Oh dear, how sad we are to go! We would seriously like to live in Llanmadoc, and I see other guests have been similarly smitten! Our hosts Dai & Heather have been so very kind, informative and supportive- real friends, who we hope to see again- soon! Wagtails has been the most comfortable accommodation for a couple that we have ever experienced. This has been our 4th visit to Gower over a period of 20 odd years. We have visited this side of Gower when we explored Weobley Castle years ago- but it was a most rewarding experience to STAY on the less 'touristy' side as it were. The people are so friendly , the sea and hill walks wonderful, the little shop a godsend. We think this is the best side to be more genuine and unspoilt. We made an excursion over to Three Cliffs etc for old times' sake, but were very glad we were coming back to the less 'suburbanised' Gower'. We can't wait to get back here, and have our eyes on 'Middle Cottage' as well for a larger family visit! Thank you so much Heather & Dai. In a year blighted for us with ill-health and other problems, this has cheered us up and restored us to health and happiness!Best wishes Joyce& Derek Pollon, Purley, Surrey.Ps the long walk along Rhossili beach from Llangennith to Burry Holme, and the glorious walk over the top of Llanmadoc Hill with wonderful views all over Gower- these are experiences we will always treasure- and it's always great to see Worm's Head again!
13th-20th October 2008Wagtails is a lovely little cottage, with everything we needed to have an enjoyable few days. We've also had some lovely weather too, clear blue skies and wonderful sun. A really relaxing week. Many thanks, Patrick & Jenny, Newthorpe, nr Nottingham.
20
th
-24
th
October 2008
We've had a lovely few days here in Gower and Wagtails has been a perfect base- well equipped and situated for exploring the locality. We've been really lucky to have had some Autumn sunshine and have enjoyed having the superb beaches all to ourselves! Three CliffsBay certainly lives up to its reputation as Britain's Best view, though faces stiff competition from Rhossili! Dai & Heather were friendly and approachable (thanks for the plasters)! We'll certainly be back!
Love Katie, Phil, Isaac & Henry, Leeds.
25
th
October- 1
st
November 2008
Wagtails is a well-equipped and tastefully furnished apartment. Heather and Dai are kind and welcoming hosts. We were lucky with the weather, considering the time of year, allowing us to fully appreciate the stunning scenery of the Gower and surrounding area. Our two dogs certainly enjoyed it too! We like to think we'll return in the not too distant future.
Many thanks Heather & Dai
Best wishes, Ann-Marie & Pete Millmore (and Flyte & Golly the Collies!).
8th- 13th November 2008A lovely few days! Amazing walks and beaches. A very cosy apartment with just the right level of luxury. Many thanks to Heather & Dai for their hospitality and generosity. We'll hopefully be back someday! Corinne, Ian and Otto the dog, Oxford.1st – 4th November, 2008. This was our first visit to Gower and we could not have picked a more comfortable , well-equipped and welcoming cottage, 10/10 to Dai and Heather! We were lucky with the weather & the walks, especially Rhossili with lunch at the Worms Head Hotel quite spectacular. We will definitely be back, so much more to do and see and no where better to stay than Middle Cottage ! Sharon, Steve Lake & Holly the dog. Witney, Oxfordshire.
8th- 13th November 2008A lovely few days! Amazing walks and beaches. A very cosy apartment with just the right level of luxury. Many thanks to Heather & Dai for their hospitality and generosity. We'll hopefully be back someday! Corinne, Ian and Otto the dog, Oxford.
27/12/08 21/09 Perfect cottage, ace few days. Will be back - huge lawns
(we think this is what is says)
and dog friendly! Many thanks, Kate and Woody. Isle of Wight.